The BC Reptile Club 2019 Spring Expo will take place on April 27th and 28th. Saturday, it will run from 10 am – 5 pm. Sunday, it will run from 10 am – 4 pm.
The Expo will be held in the Ag-Rec building. The address is: 32470 Haida Drive, Abbotsford at the Abbotsford Exhibition Park.
Click here to RSVP and view event information on Facebook.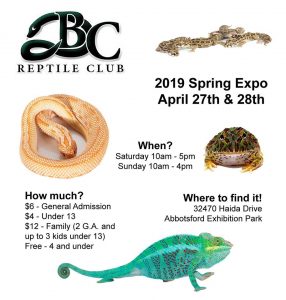 Dates & Times:
Saturday April 27th – 10am to 5pm
Sunday April 28th – 10am to 4pm
Admission:
$6 – General Admission
$4 – Under 13
$12 – Family (2 GA and up to 3 persons under 13)
FREE – 4 and Under
Address (See Map Below):
Ag-Rec Building
32470 Haida Drive
Abbotsford Exhibition Park
Abbotsford
Parking
Arrive EARLY to secure a parking spot, or make alternate plans. Due to the Abbotsford Flea Market that takes place every Sunday, parking is limited. Consider carpooling, or parking elsewhere and walking to the venue.
Download a copy of the Expo Map