2020 Board Members
The BC Reptile Club board is a voluntary position. Nominations are accepted at the annual Fall Expo, as well as in person at the our annual general meeting. All board members of the BC Reptile Club are voted in by fellow BC Reptile Club members.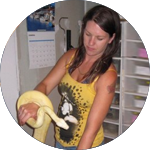 Learn more about Deanna
Hi my name is Deanna Wallace. I have kept reptiles for around 15 years.
My first reptiles I brought home were a pair of bearded dragons named Spike and Angel. I adopted my first snake from the Richmond Reptile Rescue – a cornsnake named Missy. Now I have around 15 snakes. I also share my home with two large green iguanas that were both rescues. Micheal, my male Iguana, was in a whole sale warehouse fire that burned off his left front and back foot and left a huge scar running down his left side. Luckily he has made a full recovery and is healthier than ever! I also have several types of geckos, pet rats, 2 dogs, 2 cats, 4 rabbits and a blind chicken. 
My daughter, Autumn, shares my passion for animals and has won many grand champion ribbons at fairs including the PNE with her doe (a satin) named Thistle. Between her and I, we have taken in many homeless animals and have helped them recover and find new permanent loving homes.
I'm looking forward to another year with the Board, and hope to help with getting our name out there more by going to more events in the upcoming year! I also look forward to meeting fellow Club Members at our Spring and Fall Expos. Please come introduce yourselves, I will most likely be helping run the door and announcing the raffle!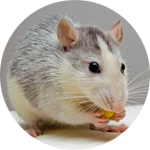 Learn more about Jude
I have been involved in the pet industry for almost 30 years. About 20 years ago, I started producing mice and rats as feed. My business has grown from there, and today we are known as CTC Predator Feed . This is a full time job for myself and my right hand gal, Jen! We have 3 other folks that work with us to keep everything running smoothly and well-organized with the goal of providing nutritious feed for the reptile hobbyist.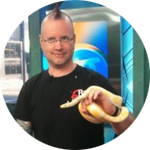 Learn more about Sean
The love of reptiles started probably around the age of 10. We used to visit friends on Mary Island out of Halfmoon Bay on BC's Sunshine Coast. At low tide we used find and catch these huge green snakes. No idea what they were or if they were dangerous but they were cool.
I finally got my first reptiles, 2 male Iguanas, when I was 24. The last of those passed away at 17 years old.
I got a cornsnake when I was 25. I had her for 20 years when she passed. Since then the collection has grown to many corns, ball pythons, western hognose and a big BST girl. I have produced, traded and kept many snakes over the past 20 years. My two sons have their own pairs of cornsnakes. I love my snakes. Love lizards but never want another one ever again. Too much work for me. I also raise a lot of rodents for food. It seems to be a challenge to keep enough supply for my demand but it usually works out.
Professionally I've worked for London Drugs since 1990. I manage a photo lab. Photography was one of my favorite hobbies as a teen and into my 20's so working in a lab seemed like a good job to have. That has turned into a career with only 20 years of working to go.
Love chatting about my snakes to any one and everyone I meet. I love to go to my kids classrooms and educate the kids about snakes. I will never make a pile of money in this hobby but I don't care. It has always been about the love of snakes first, money second.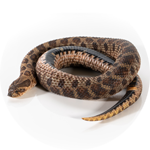 Meko W.
Membership Secretary
Learn more about Meko
I have been actively involved in BC's reptile community for around a decade, and keeping reptiles for close to 15 years. I've kept everything from Ball Pythons, a Brazilian BCC and Carpet Pythons, to Viper Gecko's, Argentine Tegu's and Leachies. I currently breed Western Hognoses, operating as Elemental Herps.
As a breeder and keeper, I like to lead by example. Educating others by showing them the high standards of care I provide my reptiles is my top priority. This not only applies to my reptiles, but also the care and diet provided to the rodents I feed them. I'm also an avid wildlife photographer. I like doing my part to break the stigma of "creepy crawlies" by educating people on how beneficial reptiles and amphibians are to our ecosystem.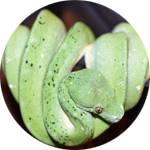 Han W.
General Board Member / Webmaster
Learn more about Han
I first became fascinated with reptiles in the 1st grade at Vancouver Montessori, where we had a garter snake, box turtle, red eared sliders, and some tadpoles in the classroom which we released after metamorphosis. Growing up, I kept various colubrids including corn snakes, rat snakes, house snakes, and even an egg-eating snake, all bred locally in Vancouver. When I moved back home after undergrad, I began keeping ball pythons. I stepped away from the hobby for a long time, but came back in 2016, picking up most of the dream animals from my younger years including Green Tree Pythons, Children's Pythons, Amazon Tree Boas, Cay Caulker Boas, Solomon Island Ground Boas while I continue to keep Ball Pythons and Black (Fuliginosus) House Snakes.
I believe the key to successful husbandry is to learn as much about the natural history of a species as I can, and come up with simple but effective ways to emulate the more essential elements of their life in the wild while offering the benefits and comforts of captivity. The issue I'm currently most concerned with is the overfeeding of snakes, and I try to educate as many people as I can as to the benefits of seasonal cycling, not just adjustments of temperatures and lighting but also of feeding regimens.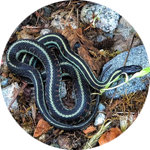 Jae T.
General Board Member / Adoptions Co-ordinator
Learn more about Jae
My love of the strange and scaled began when I was 7 and was exposed to reptiles in my family. Since then, I have been blessed to work with many species of snakes, lizards, monitors, invertebrates, amphibians, tropical fish and exotic birds. I'm a very passion-fueled individual and I am keen to work with other members of our community to reach for higher standards of care and improved ethics. I am constantly striving to stay up to date in the evolving knowledge and husbandry aspect of herpetoculture and to spread my knowledge to others along my path.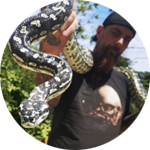 Ryan M.
General Board Member / Adoptions Co-ordinator
Learn more about Ryan
I've been keeping snakes longer than 30 years on and off back to wild caught garters. My passion is for snakes, and through Crown Pythons it is my daily reality. I collect and breed over a dozen species currently, and outside of my home I help run the Vancouver Island Reptile Show, as well as have given seminars with the local college to vet students and bring display animals to handle at every event I can attend.
I am always willing to help where I can, and to give guidance and advice when possible, and am looking forward to putting my very outspoken nature to good use to help further the hobby for the better through the club, and will encourage everyone to interact and support what I believe to be an amazing resource to all of us hobbyists.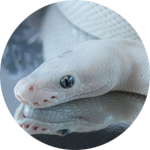 Rheanna O.
General Board Member
Learn more about Rheanna
I am a life long animal lover with a passion for advocacy and non-profit endeavors. I've volunteered for pet-related non-profits for over fifteen years, including the SPCA and VOKRA. I am a board member for the non-profit Neuterhead: Ace of Spays, which I co-founded with friends in 2013. It is my goal to use my fundraising, animal rescue, and non-profit operations experiences towards boosting the work of the BCRC.
Compared to our other board members, I'm relatively new to the world of exotic pets. Discovering reptile keeping was a joy which I leapt into headfirst with enthusiasm, and over time, I've developed a real excitement to share it with others. I currently breed ball pythons with my boyfriend under the name Gemini Pythons. Aside from doing all I can to educate about proper husbandry and care, I make a point to strongly emphasize that reptiles aren't disposable pets, and like all animals taken into our homes, are deserving of our love and commitment.